The UMH introduces the ERASMUS Experience Club card.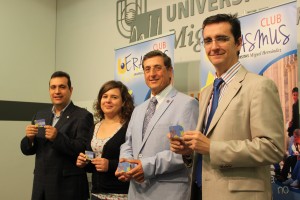 The Miguel Hernández University (UMH) of Elche has introduced the ERASMUS Experience Club card this morning. This card offers advantages to Erasmus students, both the UMH students who have done a  study abroad program and students from other European universities who are enrolled on official studies in the UMH.
The Rector of the UMH, Jesús Pastor Ciurana, the Vice-rector of Students, Francisco Moreno,  the Vice-rector of International Relations, Manuel Jordán and the General Students' Representative, Ángeles Mas, were in charge of the presentation.
Among the advantages offered by the card,  sports activities discounts, welcoming events and foreign language promotion activities  must be pointed out.
This Club emerges as an in-person and virtual international meeting forum, whose aim is to promote international relations and activities throughout the University Community, as well as the dissemination of experiences and organization of activities.