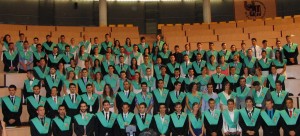 The graduation ceremony of the  fourth group of students from the bachellor program in Physical Activity and Sport Sciences has been held in the Miguel Hernández University's Great Hall, where 121 students have been graduated.
The UMH Vicerector of International Relations, Manuel Jordán Vidal, the President of the Social Council, Francisco Borja Miralles, the Dean of the Faculty of Social & Health Sciences, Eduardo Manuel Cervelló Gimeno, and the Director of the  Department of Health Psychology, Juan Carlos Marzo Campos have attended the ceremony.
Professor David González-Cutre Coll has given a master class and two students, Sofía López García and Patricia Lora Espinosa, have taken part in the event on behalf of the fourth class of the Physical Activity and Sport Sciences degree.