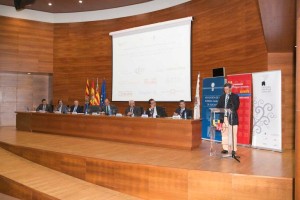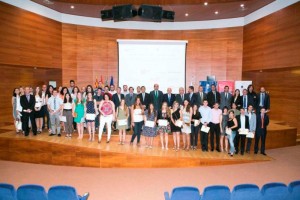 The Miguel Hernández University (UMH) of Elche and the University of Alicante (UA) held the closing ceremony of the Family Business Chair courses of both universities, in a joint event who took place in the Rectorate and Social Council Building Function Hall in the Campus of Elche. The event was presided by the Rector of the UMH, Jesús Pastor Ciurana, and the Rector of the UA, Manuel Palomar Sanz.
Among the people who attended the ceremony were the Directors of the Family Business Chairs in Elche and Alicante, Marcos Requena Penat and Fernando Olivares, respectively. There were also present at the ceremony, the president of the Social Council of the UMH, Francisco Borja Miralles, the president of the Family Business Association, Francisco Gómez Andreu, the Director-General of Universities, Higher Education and Science, José Miguel Saval Pérez, and the Director-General of Industry of Joaquín Ríos Casanova.
During the ceremony, diplomas were awarded to the students who have finished Family Business Chair courses in Elche and Alicante. Manuel Paredes Algarra and Asunción Ester Esclapez Boig, both students of the Family Business Chair in Elche, took part in the ceremony on behalf of  all the students of these courses.
The Family Business Chairs  in the UMH and the UA are sponsored by institutions and companies such as  Grupo Antón Comunicación, Grupo Pikolinos, Gupo ASV, Mercadona, Grupo Soledad, Mustang, J'Hayber, GET, Grupo Marjal and Laboratorios Quinton Internacional. Representing them, the president of the Fundación Pascual Ros Aguilar, Sergio Ros, took part in the ceremony.